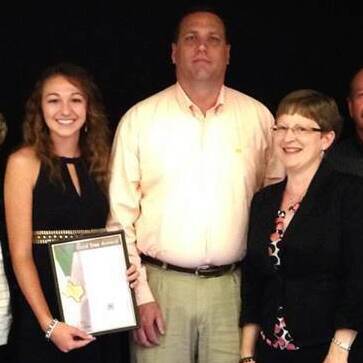 Kim Fleming and Maegan Fleming-Alexander & Gainesville Police Department in memory of Steven Fleming
Kim Fleming and her daughter Maegan Fleming -Alexander established the Steven Fleming Memorial 4-H Scholarship in 2014 after Steven passed away on November 1, 2013, as a direct result from an accident at work where Steven was the Chief of Police for the City of Gainesville. The Gainesville Police Department established the Steven K. Fleming Memorial Scholarship.
Growing up in Hardeman County, Steven and his brother were active 4-H members following in their Dad's footsteps. They not only showed sheep but also raised them.
Fast forward some 20 years later, Maegan became interested in 4-H as well. She joined Cooke County 4-H in 3rd grade showing rabbits and later goats. Steven loved spending time helping her with projects as well as volunteering countless hours at shows.
After becoming Chief of Police, Steven enjoyed attending the 4-H banquets and awarding "Rookie of the Year." These are fond memories the family will never forget. Ironically, the last family photo taken was when Maegan received her 4-H Gold Star Award in October 2013. An honor she also shared with her Dad. Therefore, it became their goal to establish this scholarship in his memory.
Steven worked as a Gainesville Police Officer his entire law enforcement career beginning on February 4, 1991. He had 22 years and 9 months of service with the City of Gainesville. He graduated from Chillicothe High School in May 1988. He attended the University of North Texas as well as North Central Texas College. He graduated from Arlington Police Academy in Arlington, Texas in 1990. Steven was a member of the Texas Police Chief's Association, the International Association of Chiefs of Police, and the Combined Law Enforcement Association of Texas (CLEAT). He also had his PADI open water dive certification. He held a Master Peace Officer's Certificate, Instructor Proficiency Certificate, and was a Standardized Field Sobriety Testing Practitioner. He logged over 3, 500 police training hours. He served on the Criminal Justice Advisory Committee with the Texoma Council of Governments (TCOG) as well as the CASA Board of Directors.