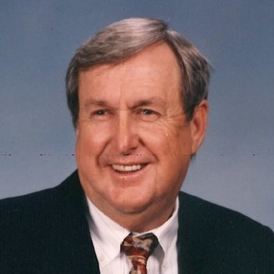 Rebecca Hatcher in memory of Jimmy Jack Hatcher, Attorney at Law
Jim was born on November 23, 1936 in Gainesville to Fred Hatcher and Rose (Lavender) Hatcher. He passed away on June 18, 2019 in Denton after a lengthy struggle with pneumonia.
Jim attended and graduated from Gainesville High School in 1955. He then went on to graduate from Baylor Law School with his Juris Doctorate degree in 1960. He was a County Attorney for Cooke County and began his private practice with L.V. Henry, whom he looked upon as a father image, as well as legal mentor. Jim also held the office of District Attorney for Wise, Cooke, and Jack Counties.
Jim was elected Mayor of Gainesville in 1993 and served until 1997. His proudest accomplishment as mayor was building the War Memorial at Leonard Park, which was dedicated on November 11, 1996. Many citizens asked him to run for a second term, but he felt his accomplishments throughout his term brought an impact to the city that could possibly not be repeated.
Jim enjoyed playing golf and flying his many airplanes over the years. There are numerous stories about how Jim felt a great deal of pride knowing he was able to turn his plane into an "Angel Flight" to help strangers and people he knew without asking to be reimbursed for any fuel or time.
This scholarship was set up to benefit the "C" graduate from Gainesville High School, which was always his dream.