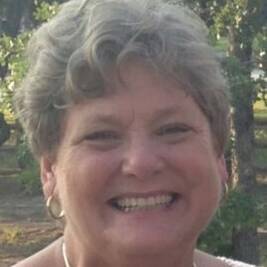 Family in memory of Cindy Conrady Berend
Cynthia Marie Berend, 63, passed away Monday, July 3, 2017 in Graham. Cindy was born March 30, 1954 in Olney to the late Vera Hoff and Edmund Joseph Conrady. She graduated from Windthorst High School, received her bachelor's degree in Education from Midwestern State University. She married her high school sweetheart Mike Berend on November 25, 1972 in Windthorst. Cindy was a woman who loved God, family, friends, & students to the moon and back.
Survivors include: husband , Mike Berend of Graham; daughter, Kasie and husband Matt Fitzsimmons of Murphy; sons, Denny and wife Penny Berend of Graham, Kyle and wife Cameron Berend of Graham, and Lee and wife Shelby of Wichita Falls; 9 Grandchildren, Madison Fitzsimmons, Reagan Fitzsimmons, Kylee Fitzsimmons, Hadley Berend, Max Berend, Casimir Berend, Camille Berend, Cannon Berend, and Cree Berend; 23 Godchildren.
Cindy was open and very brave about her mental illness. She spoke openly because she thought it would help others who might be suffering; she desperately wanted to be healthy and participate in life again. She fought the good fight and we know she is in the presence of God and living in peace. She loved Mike and her family beyond anything on this earth – that's why she always left us with her famous "I Love You to the Moon and Back." We knew she meant every word of that line and lived it until the end.
Cindy was a 1972 Windthorst HS graduate; she often said that everything she learned from life came from being a dairy farm girl, athlete, cheerleader – and a waitress at Joe and Ruth Poirot's Café. We had a great group of people who helped us grow up – including parents, grandparents, and a large group of aunts, uncles and cousins. She was appreciative of our community, school, teachers and coaches; so much so that she became a teacher herself and carried on the torch of teaching and learning.
We have so many stories of how Cindy helped others through her teaching, community outreach, church ministries and so many other things she kept so humbly to herself. Without her, there would not have been the foundation laid for the North Central Texas College development. She arranged meetings with civic and school leaders, and Cindy and Mike worked tirelessly in the early years to help with the project. Generations of students from the Graham area will benefit because she cared so much for the people who needed it the most.
Cindy cared deeply about social justice, the people who lived in financial, spiritual and emotional poverty, for students who struggled. She helped ease the burdens of others. It was her mission in life and she knew it. Through her suffering, she understood too well of what it meant to meet each day with challenges and obstacles often too high to overcome. Her empathy and love prevailed even through the most difficult times.
Cindy's family and friends have established the Cindy Conrady Berend Scholarship for NCTC Graham students. Cindy was a Moonbeam in our lives. No, you can't hold a Moonbeam in your hand – Moonbeams hold us. And so will Cindy. Her generous, unconditional love and joy in serving others, with a smile that moved hearts and souls will stay with us – all the way to the Moon and Back.